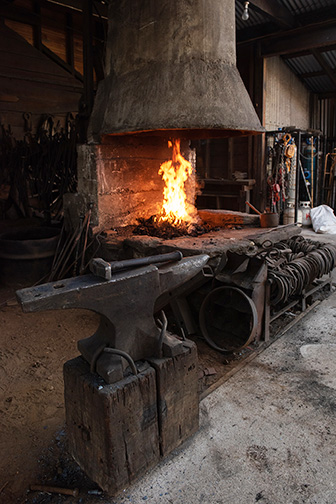 The first business entries were recorded by James Templeton in 1895, when the original Templetons was situated on the lakefront of Lake Wanaka, where it continued trading until 1899. In 1903 James began trading again, this time in Albert Town on the opposite side of the river as to where it is today. On 26th April 1906 the first entry was made from its current location, 21 Wicklow Terrace in Albert Town, where we are still situated today.
Charles (Chas) Templeton's ledgers began in 1913, through to 1954 at which time his sons David and Ralph joined the business. Ralph then took over in 1964 and traded through until 1996 when his son Garry took over the business. In 2020 Garry introduced Mathew Read to the business as a director. Matt and his wife Sarah took over as company owners in 2021.
In 1906 when Templeton Engineering first opened its doors things were different, with the work of Blacksmith being the main source of business. The original forge still stands today in our busy workshop and is often lit for special occasions.
Over time, business has evolved with society and we have continued to meet the demand of technology with the latest in equipment and gadgets. Not to forget the old timers of equipment that we still have operational, as they still serve a purpose now and again for that specialised technical job.
A snippet of an article published on the history of Albert Town on the Albert Town Community Association website -
In 1904 James Templeton became the first paid puntman by the Vincent County Council. He did have to operate the Upper (beside the current bridge) and Lower Punts so it was sometimes a long wait while he walked between the two punts. The service was speeded up when the County purchased a bicycle to travel between the two punts.
Charles Templeton (James' son) took over the family's blacksmith wheel righting business (started in 1906) in 1913 and gained a reputation of being able to fix almost any broken equipment. It is most likely that farmers came from all over the district to have work done that Albert Town survived to this day. Templeton Engineering is the oldest continually operating business in the Upper Clutha and is the Bank of New Zealand's oldest customer in NZ.